It seems that canyoneering, is one of those sports that borrows and adapts gear from other rope and aquatic sports. As the sport grows in popularity, more canyoneering specific gear becomes available. It seems that footwear has been an area that has been lacking in options. For the longest time, the only canyoneering specific footwear, (available is the US) was the venerable 5.10 Canyoneer boot.
Old 5.10 Canyoneers. This design held for years. The goofy look and recognizable tracks on dirt made it easy to spot them in the wild.
It looks like this model hung in there for years. The rand was kind of low, and they would wear fast in exposed areas, but early runs of this model were pretty OK. In later years, runs of this model became famous for delaminating early and often.
In 2015, my 5.10 SARs delaminated after 3 canyons.

5.10 replaced my Canyoneers 2 SARs with a pair of the new 3s. While waiting for the replacement, I got a pair of Bestard Canyon Guides. These are boots made in Spain and it looks like Bestard is a serious brand of mountaineering boots (www.bestard.com) from Adventure Plus
On the left, Bestard Canyon Guides. On the right, 5.10 Canyoneers 3. Both after a year of canyoneering.
5.10 3's Do not delaminate, but have weak spots in the front. I had to cover the front mesh in Aquaseal to keep the mesh from disintegrating.
Bestards holding pretty good after a year. Weak spot seems to be the rand where the foot bends.
5.10 Stealth rubber is famous for being sticky. I found Bestards to be just as sticky. I like how the Besatrds have a better edging zone on the inside foot.
Cool lace locking mechanism.
Neck is useless to keep sand out.
5.10 sole profile with notch under the arch gets stuck in rock features.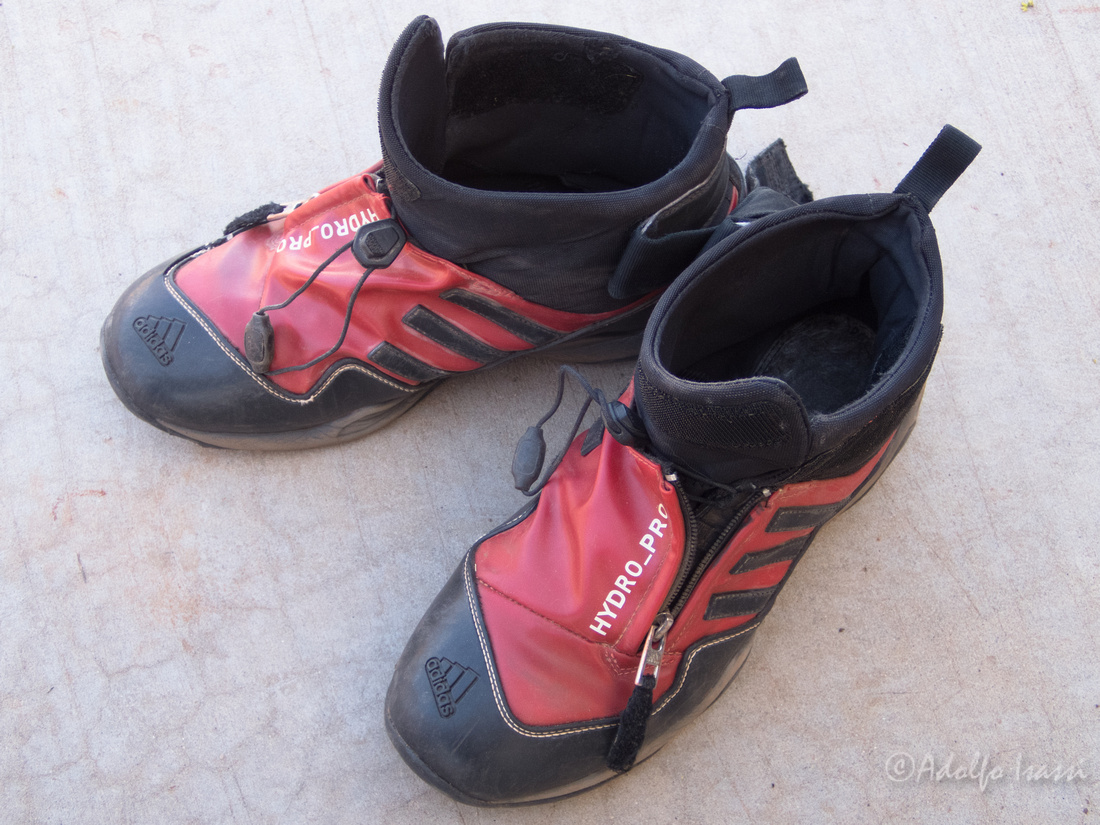 Other options are in the Adidas lineup.
Adidas Hydro Pro and Hydro Lace are OK for class C canyons. In sandy canyons, the zipper gets clogged fast. The lace-up model fares batter, but both models develop sand-pockets between their lining and exterior. The fine sand gets in there via sandy water. After the water dries, the sand remains there. After several canyons, your toes do not fit in the toe-box anymore. You need to slash the lining.
After a year of wearing both Bestards and 5.10 boots, these are my impressions:
Bestard Canyon Guides are super light and comfortable. They seem to withstand abuse better than the 5.10s. Bestard's sole pattern and rubber are sticky enough, and I like the flatter thread better with a generous edge zone for climbing. Bestards provide great ankle support. I have taken these boots in a couple of multi-day Grand Canyoneering trips with a 45 lbs pack. I feel like they are a bit too much for shorter dry canyons, and that is where I use my 5.10 Canyoneers 3s.
Bestards Canyon Guides in the Grand Canyon: 12 Mile approach, climbing, edging, canyoneering, rafting.
Lee T Wilson stemming high on Bestard's Canyon Guides.
The ideal canyoneer footwear should:
Be comfortable enough to use on day or multi day routes.
Offer enough ankle support to carry heavy packs on very uneven terrain.
Be made out of materials that do not get degraded by constant water exposure.
Drain fast and not allow excessive amounts of sand in.
Have protection for very high abrasion enviroments.
Have soles that are very sticky and shed mud fast.
If you want a "do it all" tough, comfortable canyoneer boot, give Bestards a try.