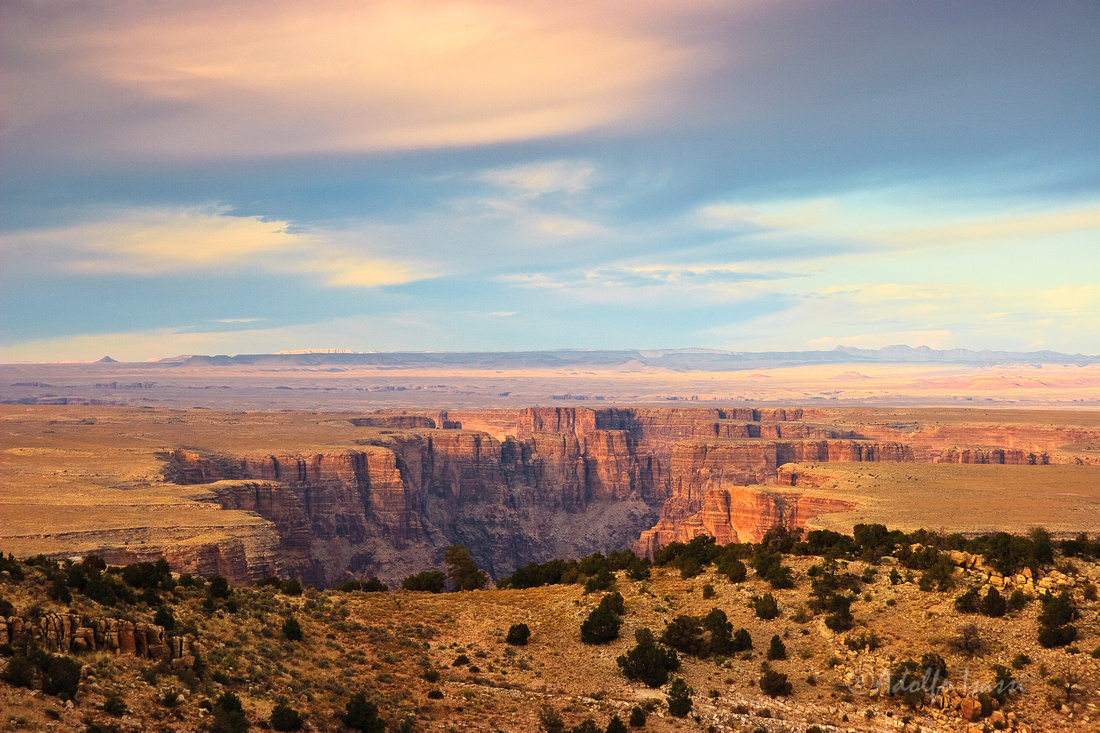 This is one of the earliest shots from the "Canyons of the Southwest" collection. It was taken during November 2005. The objectives from that particular expedition was to concentrate on the South Rim of the Grand Canyon, and other minor canyon around the Kayenta area.

One of the lessons from that trip is that the Grand is so...enormous, that 'atmosphere' becomes the subject of your image. Here, in this image of the Little Colorado River Gorge, you can almost 'feel' the soft light traveling through the air rendering the landscape in the warm tones of the "Golden Hour"....that precious hour of light before/after the sun touches the horizon at sunset or sunrise....before it turns -blue- and into the "Blue Hour".

While traveling from Kayenta to the South Rim, I realized that I wold hit this scene at the Golden Hour, so with anticipation, I scouted for the desired point of view. I shoot through the hour and back at home, I selected this particular shot, where there is still blue in the sky, before everything becomes a "golden bath" that drowns everything. I love how you can see the brush in the foreground, the canyon walls in a slight purple, and the cliffs in the far distance.

This shot belongs to what in retrospect I see as my "Golden Hour" seeking years, and marked a path that would lead me closed and deeper into canyons.

Technical details:
66 mm
1/200 at f/8
ISO 100
The original RAW file was developed initially in CaptureOne software.
Later prints were developed in Lightroom, which was an interesting experience.....different RAW software renders slightly different results.